RT: Hi Susan, welcome to the Reading Tub! December seems like the perfect time to talk about your new book, My Grandfather's Masbaha! What are your goals for My Grandfather's Masbaha with readers? Are there specific things you point out for children and families to help them connect to the story (or connect to their lives)?

Susan: Thanks for having me, Terry, I am excited to be here. To answer your question, I want readers to see that although Arab and Western cultures are different, we have things in common. Gratitude, family, and finding meaning in the smallest things are a significant part of humanity. They are especially appreciated during the holidays and times when we gather with our loved ones.
RT: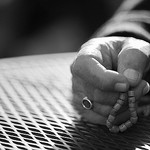 At the back of the book, you talk about all of the different materials used to create a masbaha. Can you make a masbaha at home as a family project or is this something that must be "officially" made, as a rosary would be for Christians.

Susan: In preparing to write My Grandfather's Masbaha, I began making masbahas from different stones. Actually, I gave a few as gifts.

It is a basic beading process. You need nylon string (similar to fish hook string), 33 beads, and a tassel. That is the basic design, it can get more intricate when you add, rhondelles or caps between each bead and add additional beads below the tassel. When searching for my book on Etsy you can find a number of masabih.
RT: I laughed out loud at Adam's declaration about having "nothing" [no friends, no toys, nothing to do]. Parents around the world will nod their head when they read that! How can we help our kids see things more clearly - just as Jidoo and the masbaha?

Susan: That's a good question and not an easy answer. My son still does the same thing when he feels like he needs more of something - play, attention, toys, etc. I still keep reminding him of how much he does have. Still the frustration persists.

Personally, I think the most important thing you can do to help your child appreciate what he has is when you teach him empathy. Show him that others do not have as much as he does and he should help them. Involvement in organizations like scouting is important. Kids get to experience first hand how important a bag of canned foods is to another family. So often we take that for granted.
RT: You were born and raised in the United States, but also maintain strong ties to Lebanon, where you have family. In studying at the American University of Beirut, as well as making personal trips, have you identified other subjects that can bridge our cultures?

Susan: Yes, definitely there is. Some of the ideas that come immediately to mind are food, dance, and games. I am considering publishing more family stories, as well as some that involve Lebanese/Arab games and folk stories.

I would also like to have My Grandfather's Masbaha translated into several languages, including Arabic and French. Reading (or hearing) a book in your native language can be so powerful for a child.
RT:
In our interview on the Family Bookshelf, we talked about the idea that literacy is a means to an end in the Arab World. Would it be fair to conclude that reading is viewed as a source of nonfiction (e.g., newspapers)? And where does writing fit in?

Susan: Arabs are preoccupied with news on paper, television, and radio. There are more political talk shows on TV stations than any other type of programming. Yet, that's not the only thing that's read. Arabs love poetry. You will find that many quote famous poets and even take part in modern poetry duels called zajal.

As for writing, I'm not sure of the best way to answer that. Correspondence like thank you notes are more popular in Western tradition, from my experience. That said, poetry is writing and there are many famous Arab poets.
RT: Your author blurb says that your teaching experience led you to working on educational programs at the international level (e.g., NGOs and UN-affiliated organizations). Did you ever look at / work on literacy projects? If so, could you share what you learned?

Susan: I never worked on literacy projects hands on. I did research for my master's degree and a paper I submitted at Cairo University with regards to "Assessing the UN Millennium Goals in Closing the Gender Gap in the Arab World."

The paper reveals female literacy numbers in the Arab World. Countries like Lebanon, Palestine Occupied Territories, Jordan, UAE, Bahrain, and Tunis have high female literacy numbers from 97-!00%. Other countries like Egypt, Morocoo, Syria, Saudi Arabia, and Kuwait still need to make strides. Still others like Yemen, Sudan, and Somalia have severe literacy deficiencies. Education, specifically women's education, is not a priority in those countries.
RT:
Switching gears for a moment, I'd like to ask about the publishing side of your story. In doing research for our interview, I discovered that you have both print and eBook versions of the book. Why was it important to you to publish in multiple formats.

Susan: I want to reach readers all around the world and of all backgrounds. In some countries it may be easier to download an ebook than to find a print copy. I have also released an app, which will be available soon and easily accessible on a phone. Plus, I know that there are readers who prefer a printed book not matter what.
RT: RT: Your son was the star of My Grandfather's Masbaha. Has your daughter asked to be featured in a book yet?

Susan: Oh yes! That was the first thing she said when she saw the book. "Mom, I'm mad at you, you put Adam in the book and not me." I told her not to worry. She'll have her own story with tata (grandma).
RT: This last question brings us back around to the purpose of the story itself. My Grandfather's Masbaha is a book that embraces two generations. Why do you think these types of stories are important for kids? adults?

Susan: They are important because both generations can learn from one another. Both generations are a blessing to one another. As adults we should never forget that, and we also have a responsibility to our children so that they learn, too.
RT: Thanks for stopping by, Susan. I've really enjoyed our conversation.


Website: https://www.facebook.com/grmasbaha